Skip to Page Content
Anonymous Video Analytics
Additional information about how we use Anonymous Video Analytics (AVA) in our mall, concourse, and retailer digital signage kiosks.
Français
The purpose of this section is to provide you with information about the camera sensors used in our malls, concourses, retailer digital signage kiosks, and the technology used to make these locations interactive and experience-rich.
QUICK FACTS ABOUT AVA
We do not collect images or personal information
Our cameras are never hidden and are always clearly visible
You cannot be identified by our camera sensors
What information are you gathering?
These displays use a camera sensor to anonymously estimate your age and gender in order to build automatic reports about the audience or to trigger more relevant advertising and content. The camera sensor also counts the number of viewers to help us better understand the number of people who are looking at any given piece of content or advertising at any given time. The measurement process is performed in an anonymous way with full respect to your privacy. No images or identifying information about you are collected or stored.
Who owns the camera sensors and where are they located?
The cameras are ultimately the responsibility of Cineplex Digital Media Inc. and the cameras are located at the front and top of the digital signage kiosks as shown on the image below.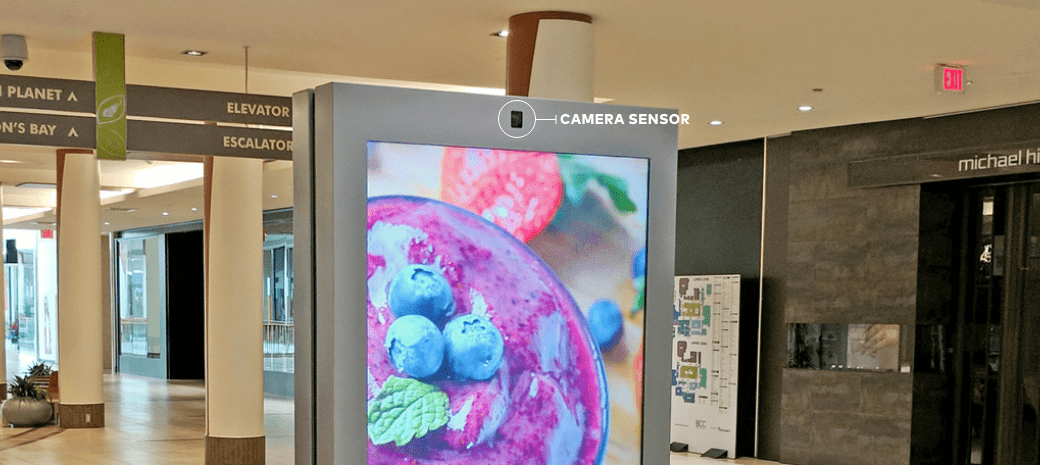 What is the technology doing?
We have camera sensors installed at various malls, concourses and at retailers which are able to detect faces within their view. Facial detection is very different from facial recognition – facial recognition looks for and identifies a particular person, whereas facial detection only looks for the presence of a face.
We cannot, nor would we ever want to, use the technology to identify someone's face.
The camera sensor detects faces in the crowd around the property at signage kiosks, and when they identify a face, the technology works out an approximate age and sex. This all happens in the blink of an eye - and no images of your face are stored by the system. It also won't remember you – so if you leave the view of the camera and come back, it will think you are a new person as it has no memory of the face it saw previously.
The camera sensors also time how long you are in view of the camera and how long you are staring at the screen, but when you turn your face away from the camera, it forgets you.
The information of all the faces is added together so we obtain a summary of the age and sexes of people who visited a property at any given time.
Why do we do this?
Based on the information we have collected about the overall population, we can display advertising on digital signage kiosks that the audience are more likely to find relevant and interesting. We can also measure whether people are interested in the advertising by understanding how long they are staring towards the camera.
None of the advertising will ever be targeted at children.
Where are the images of my face held?
The image of your face is held for micro-seconds to allow the system to determine your face's age and sex. The images are not retained, and when you leave the view of the camera it has no memory of your face.
The information linked to your face – your age and sex – is kept and combined with the information from other people's faces, however; there is no way to link this data back to the image of your face, as this image of your face is not retained.
What else do you do to protect and enhance my privacy?
We ensure that the public is well informed as the presence of anonymous video analytics systems by placing signage and stickers on kiosks, at property entrance, exit ways and other places along the path to the property.
We limit our anonymous video analytics systems to collect only the information we declare and will never intentionally collect any other information from the camera sensor.
Camera sensors are installed in plain sight and are never hidden. We want the public to understand exactly where they are placed so, if they chose, they can avoid it.
Camera sensors are installed to avoid any high-use personal spaces such as bathroom entranceways or children's play areas.
Only strictly authorized personnel have access to the secured camera sensors and related technology.
We partner with our property partners to ensure that the customer experience is one of full transparency to ensure comfort to all.
For more information about the technology in place and the supplier's privacy commitments, please click here.
For more information about Cineplex Digital Media's Privacy policy, please click here.
HOW TO CONTACT US
If you have any questions about AVA technologies or about our practices with respect to Personal Information, please notify us.
By email at
privacy@cineplex.com
Telephone us at
1-877-323-6645
By mail at
1303 Yonge Street, Toronto, ON M4T 2Y9 Attn: Chief Privacy Officer